Well we asked if you were ready to get back together and the answer was YES YES YES!  Thanks for the enthusiastic responses.
We will host our first potluck of 2021 on Thursday June 3rd at 6 pm at the Cedar Mountain Canteen located at 10771 Greenville Highway in Cedar Mountain.  Please bring a covered dish to share and your own non-disposable place setting.  Plant-based meals are encouraged and all dishes are welcome.  Everyone is welcome to join us.  We look forward to getting together.
At 6:30 pm we will enjoy a presentation from Anna of Mountaintrue on how to be a good neighbor to the river.  The Little River runs beside the Canteen and we are excited to learn ways we can be good stewards.  Here is some information about Anna:
Anna Alsobrook, Watershed Outreach Coordinator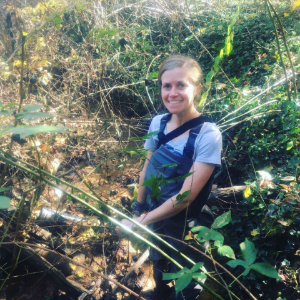 As MountainTrue's Watershed Outreach Coordinator, Anna facilitates volunteer water quality monitoring and restoration programs in the French Broad River watershed. She can be found all over the watershed taking samples, removing invasive species, planting live stakes, maintaining our riverside campsites and picking up river trash.
Anna's passion for water really started during her semester abroad in South Africa when she became sick after a big rainstorm. She did not realize then the connections between water quality and health. After earning a B.A. in Global Studies, she spent 2010-2012 as a Peace Corps Volunteer in rural Senegal. As a preventative health and environmental education volunteer, she spent much time promoting water conservation and sanitation practices within her village. After her time abroad she continued her studies, again at the University of Tennessee, where she earned an M.S. in Geography with a minor in Watersheds. Her thesis research pertained to the environmental and social effects of a large reforestation project happening in Senegal. Anna loves spending time outdoors, whether by the river or on the trail.